AccuRanker Discount Coupon
Are you just looking for the discount code, and don't want to read my full review? Maybe you already know the tool, and just want to get a good offer.
The 14 days of free access unfortunately only works, if you are creating a new account. If you are not enjoying the tool as much as I do, you are free to cancel the subscription anytime in the first 14 days.
AccuRanker Review
I always end up with AccuRanker, even though I have tested a lot of different rank trackers in my professional SEO career. This review will both show some of the greatest features, comparisons, and my opinion.
Tracking


A rank tracker's main purpose is, of course, to track the keywords you input in the tool. However, if a rank tracker only showed you the current rank for the keywords, you would probably prefer another tool.
Daily Updates
The tool will automatically update all your keyword rankings once a day. Other rank trackers only do this once a week, and if you are prioritizing special days like Black Friday, Valentines Day, Mother's Day etc. weekly updates are not enough.
If you want to see the most up-to-date rankings, you can always manually update your ranks, as long as the automatically check has been done for 12 hours or more ago.
Even on some of the biggest enterprise tools, you only get rank updates once a week, so this is just another great example of the big value you get from the small price of AccuRanker.
Share Of Voice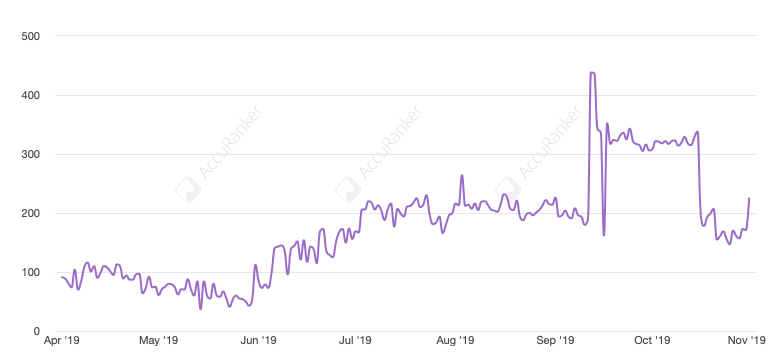 In AccuRanker you are able to compare your rankings with competitors. You can do this by looking into specific keywords and ranks, but you can also use the share of voice feature.
The share of voice shows you a gathered score of how many keywords (of the one you are tracking) that you are visible on, what are your rank on those keywords and what are the search volume.
This means you get a higher share of voice by having position 3 on a keyword with thousand of searches than having position 1 on a keyword with 20 monthly searches.
Tag Cloud
Tagging your keywords is a really good idea. Especially if you are tracking several thousand queries. In AccuRanker this is very easy to do. You can do it directly in the tool, or when you bulk upload keywords from Excel.
After the tagging, you are able to filter your keywords on different tags, but you can also use the Tag Cloud to see how you are performing on one tag versus another.
Landing Pages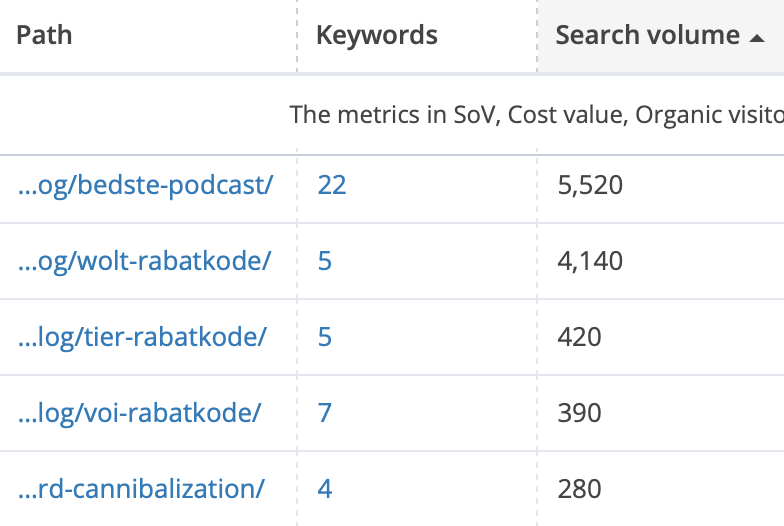 When AccuRanker tracks your ranking, it, of course, also knows which page that is ranking. The tool uses this information to give you insight into how different URLs are performing.
Sometimes it can give you a much better overview to look on landing pages, instead of keywords. One landing page could potentially rank for several keywords, which is easier to notice when looking directly at URLs.
Change Associated URLs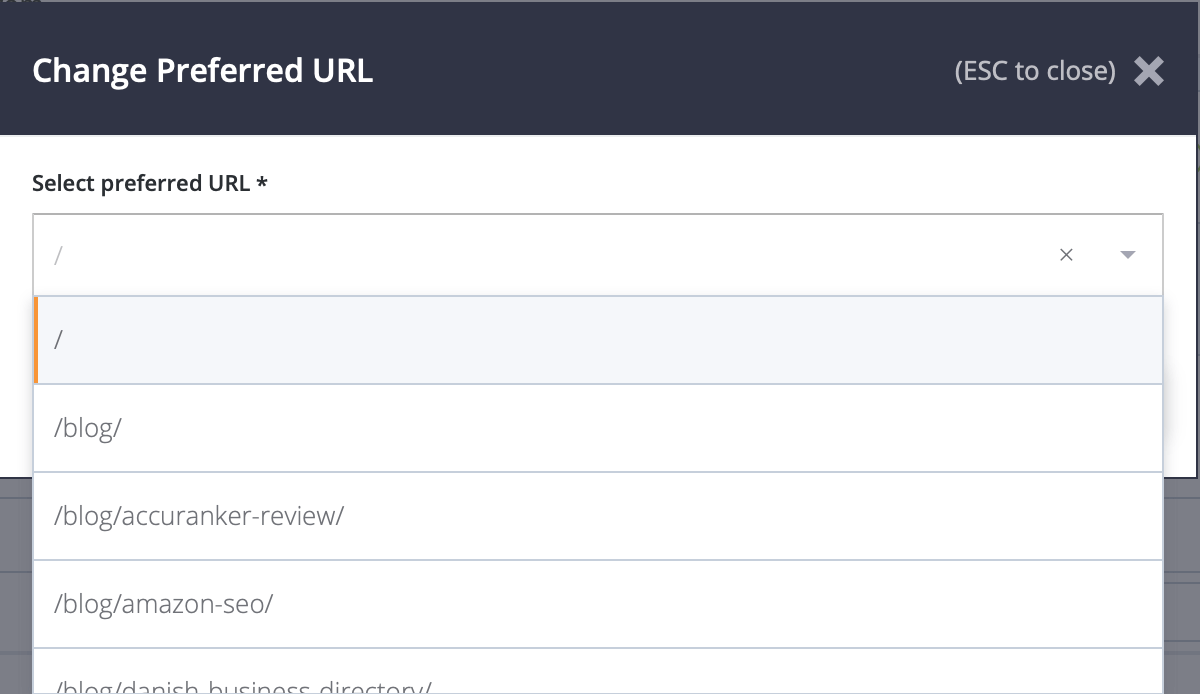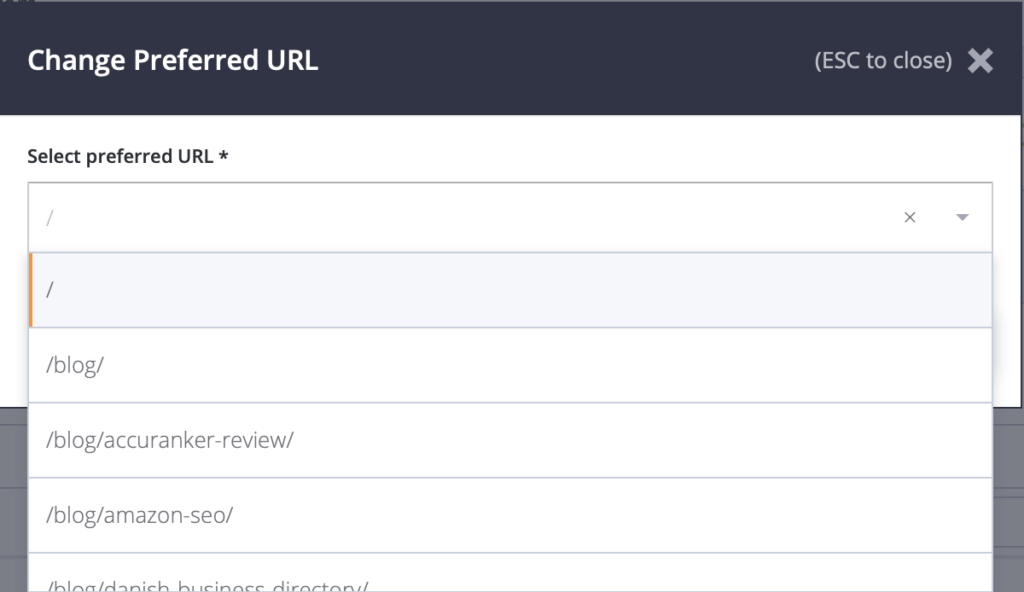 Do you have a problem with having the not-optimized page ranking highest for a specific keyword? In AccuRanker you can tag which URL that you actually want to rank for the specific keyword.
As an example, this can be very helpful as an e-commerce site, where you have a blog post ranking for a product keyword, where you would, most likely, want your product page to rank instead.
Rank Tracking On Auto-Pilot


Besides all the cool things, that you can do deep dives in, you can also set AccuRanker to give you notifications or e-mails, if something interesting happens.
If you star important keywords, you will be notified if they reach/drop out of position 1, top 5 and page 1. If you have a specific filter of keywords, you always want to stay updated on, you can also set the tool, to send you daily reports on rank changes.
These features are really good if you are not a specialist in SEO, but just want to know if any of your good rankings have fallen, so you can contact a freelancer, or your in-house specialist, to get an update on what happened.
Reporting
Reporting is a big part of a great rank tracker. Of course, you can use the insights, that the tool gives you, to know which pages should be optimized first – but maybe you know the saying "What gets measured, gets done".
Google Data Studio Connector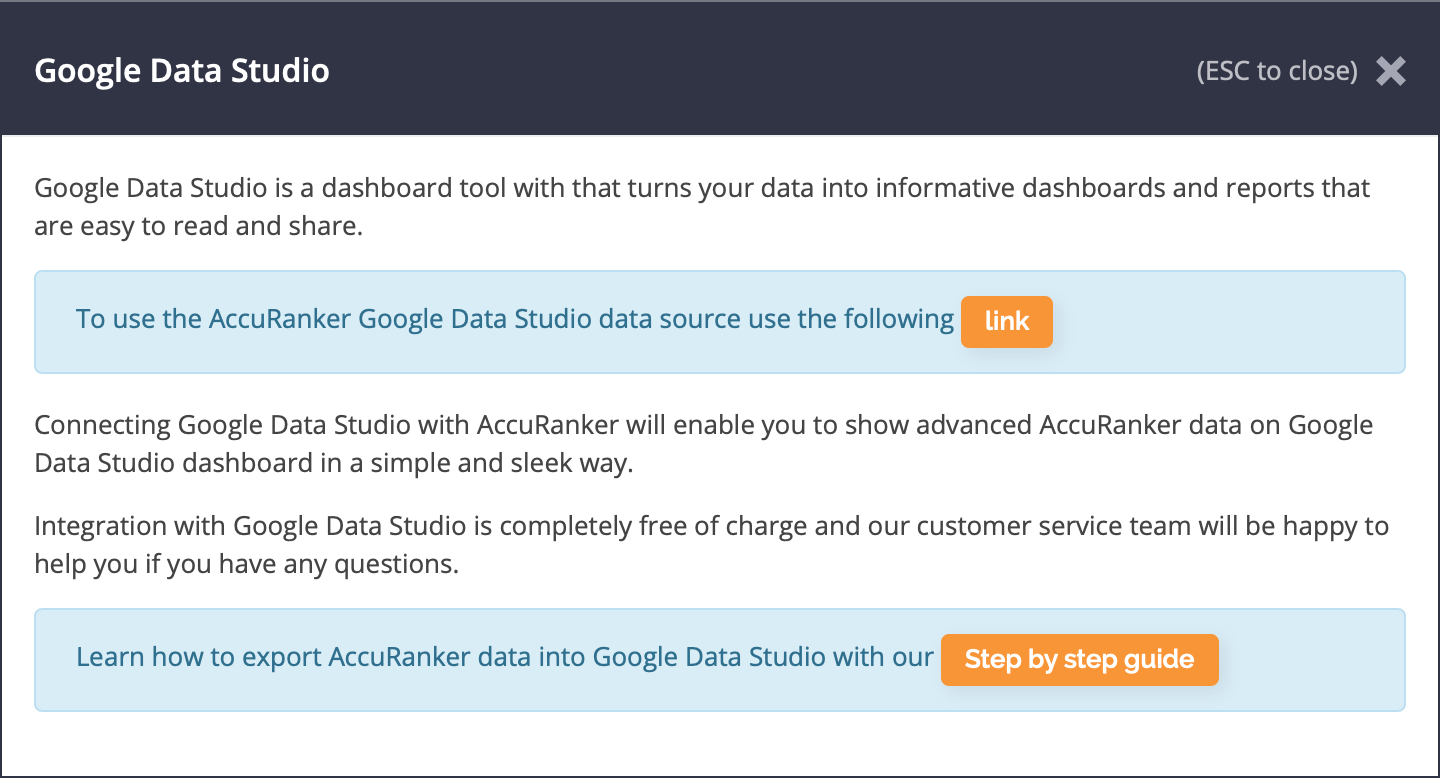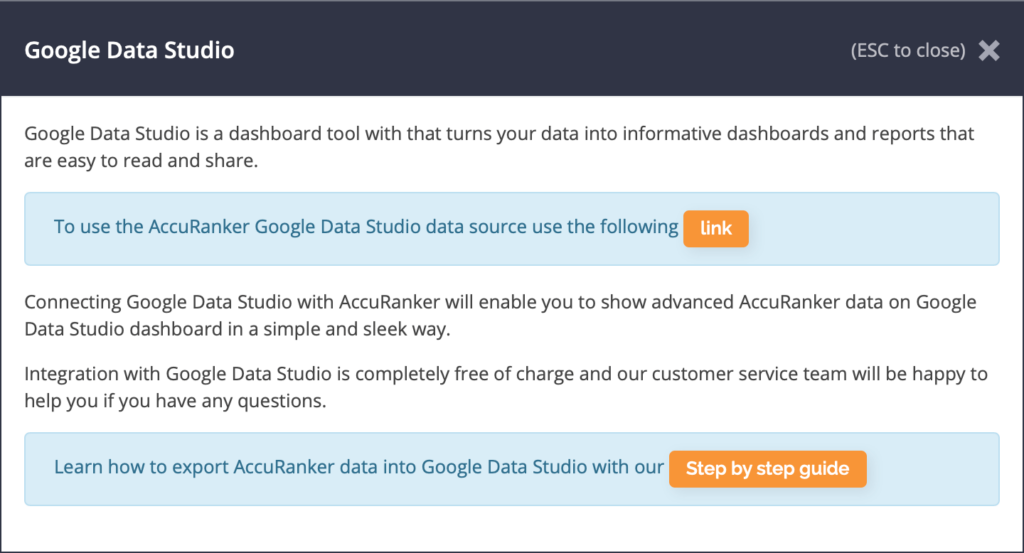 Do you prefer to get your ranking data together with other metrics, directly on a Google Data Studio dashboard? AccuRanker has a connector, that makes it really easy to work with the data you get from the tool, and showing it in a nice and clean way, directly in Data Studio.
If you would like to learn more about how to setup AccuRanker in Google Data Studio, I have written a guide on that, on their website.
Export Keywords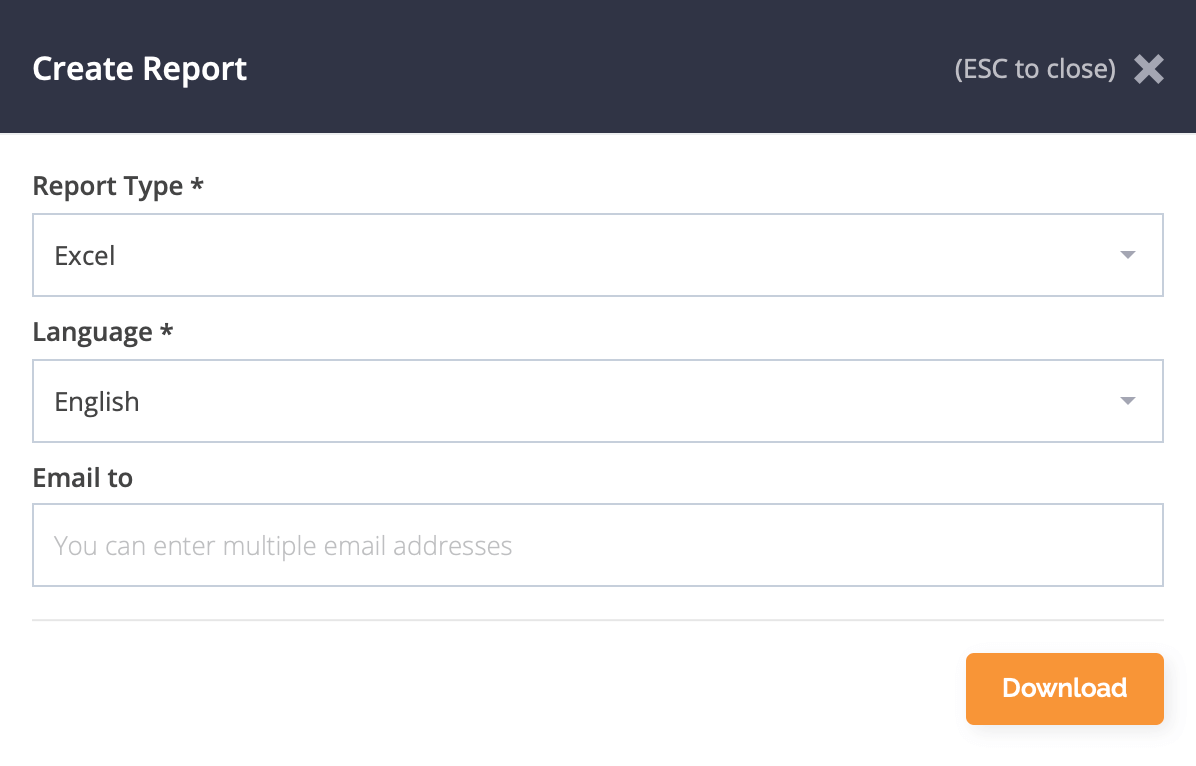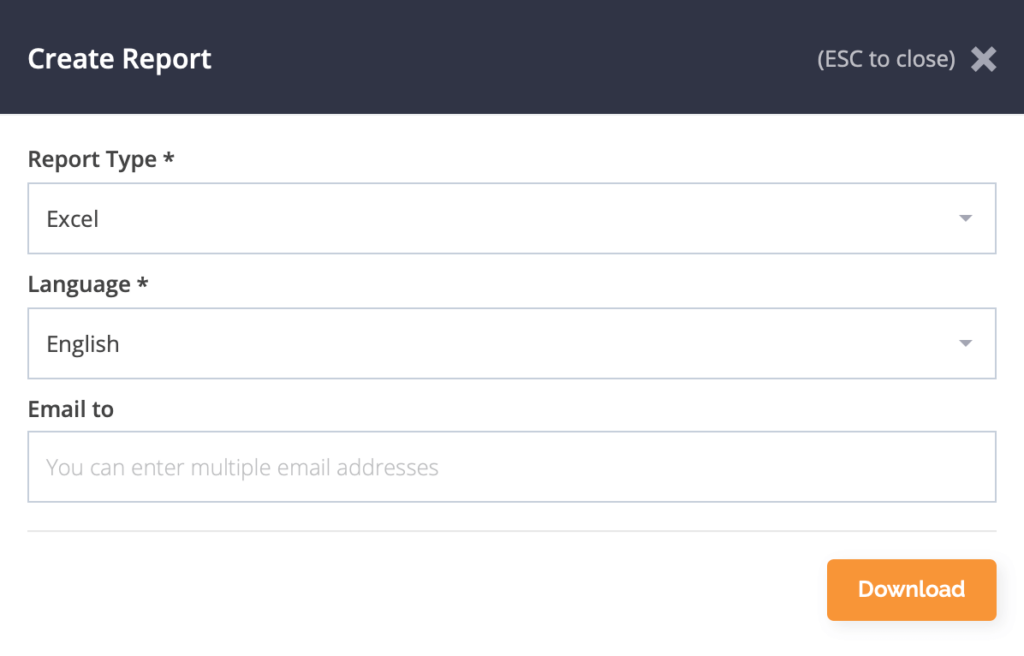 Even though AccuRanker is great for showing lots of data, directly in the tool, you sometimes have to get a bit more advanced. Luckily you are able to export everything from the tool, so you can work with the ranking data in Excel, CSV, PDF and other.
Google Sheets
As a really nice bonus, it is also possible to export data directly to Google Sheets. If you work with many keywords, Excel can sometimes be a bit slow – and here it is very helpful that you can export to Google's spreadsheet solution.
Annotations & Notes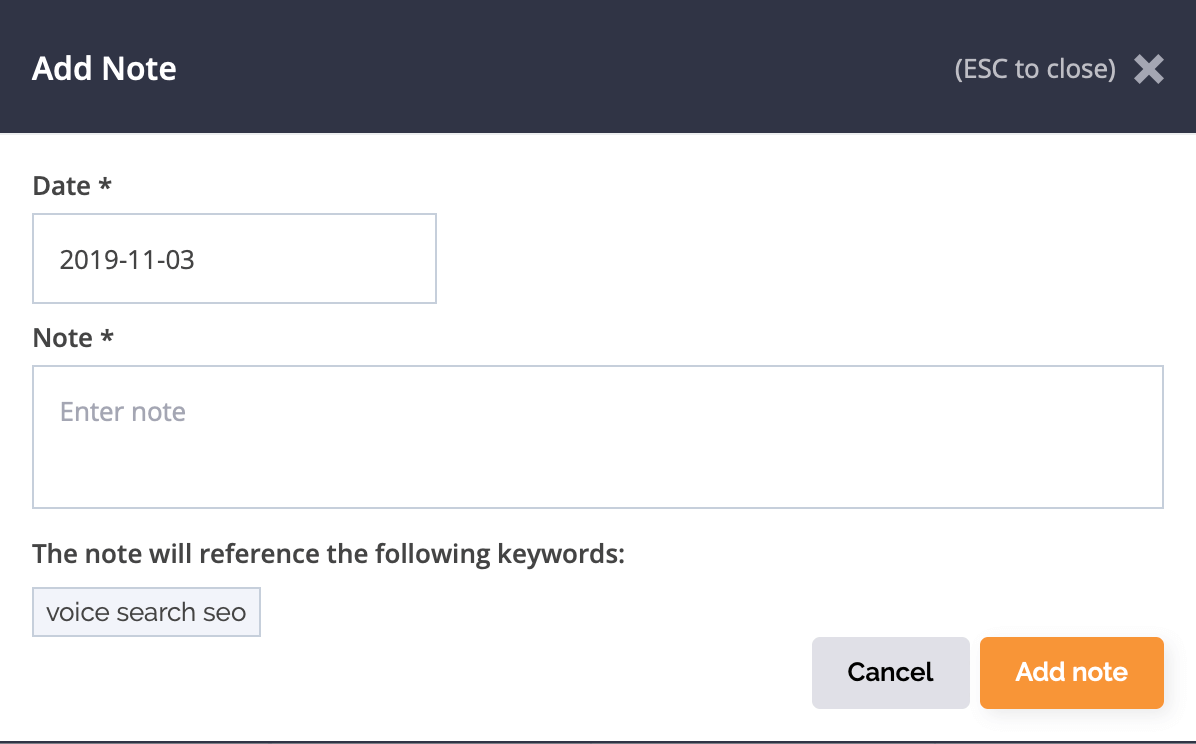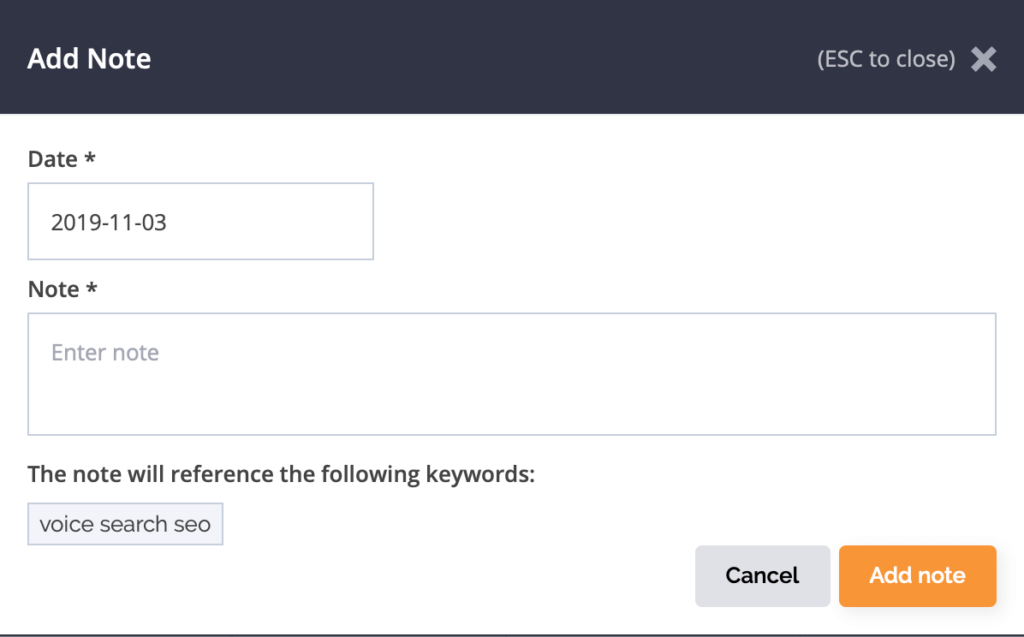 If you know Google Analytics, you know it can be very helpful to add annotations, if a big change has happened. This could be a migration, a new product category launch or other.
This is also a feature in AccuRanker. You can add the annotations to one specific keyword, or a range of keywords. However, you can also add it to the whole account.
API


If you are tech-savvy, you can utilize their API. This is not available in the smallest plan, but you would probably also track more than 500 keywords if you want to work with their API.
Integrations


One of the greatest things about AccuRanker is its huge list of integrations. By integrating tools like Search Console, Google Analytics, Adobe Analytics or Databox you able to get even more great data, together with ranking stats.
For Agency Users
If you are an agency, or just have several clients in your freelance business, AccuRanker would still be a great option for rank tracking – both for your own website, and your clients.
I use AccuRanker in my own company, where I am tracking my own keyword and clients on one single account, where I manage several domains.
However, as an agency, there is also the option to create sub-accounts from your main account. You can set this account to be paid by yourself or you can make your clients pay AccuRanker directly.
Fast Rank Tracker
Speed is always nice, but sometimes it is also really important. For a professional, it can be crucial to do rank checks in a short time.
If you have a client meeting in 30 minutes or need to do some final changes to a keyword analysis, before presenting it in 15 minutes?
AccuRanker self proclaims to be the fastest rank tracker. I have not tried every single rank tracker, but AccuRanker is definitely the fastest I have tried.
Comparisons & Alternatives
There are a lot of rank trackers and SEO tools out there – and the list is ever-evolving. Personally, I enjoy utilizing a few great tools, instead of having a range of niche tools.
My tool setup is primarily consisting of AccuRanker for rank tracking, Ahrefs for link analysis and Sitebulb for crawling. Of course, I use more tools, but these three are my primary.
However, if you would like to try out some alternatives, you could take a look at Ahrefs, SEMrush, SerpBook, Spyfu or Joturl. I have tried the first three, and have always returned to AccuRanker for rank tracking.
Free Tools
AccuRanker has a range of free tools, and if you use my link you are also able to get 14 days free access to the tool if you want to try it out, before buying a subscription.
Google Grump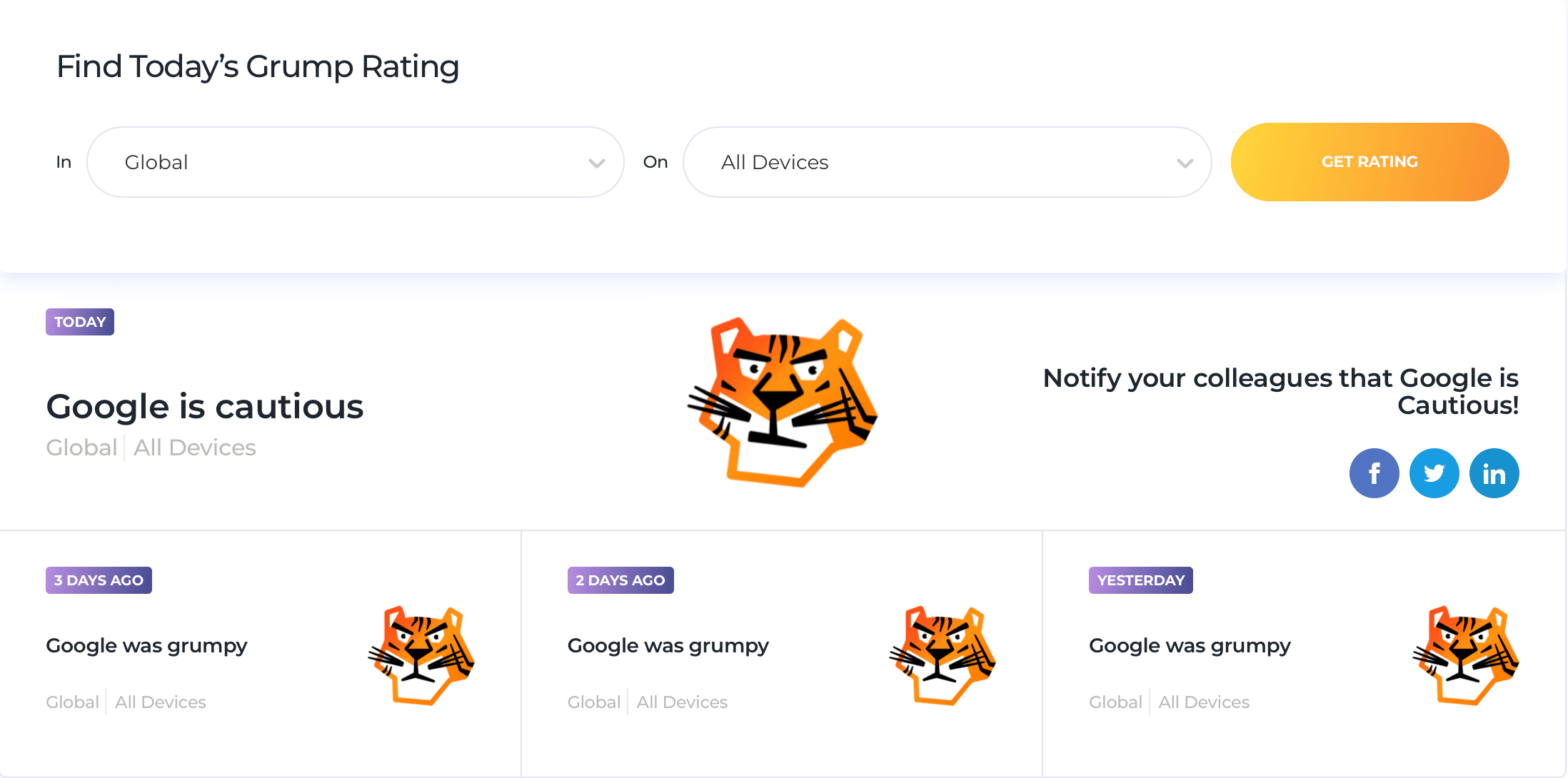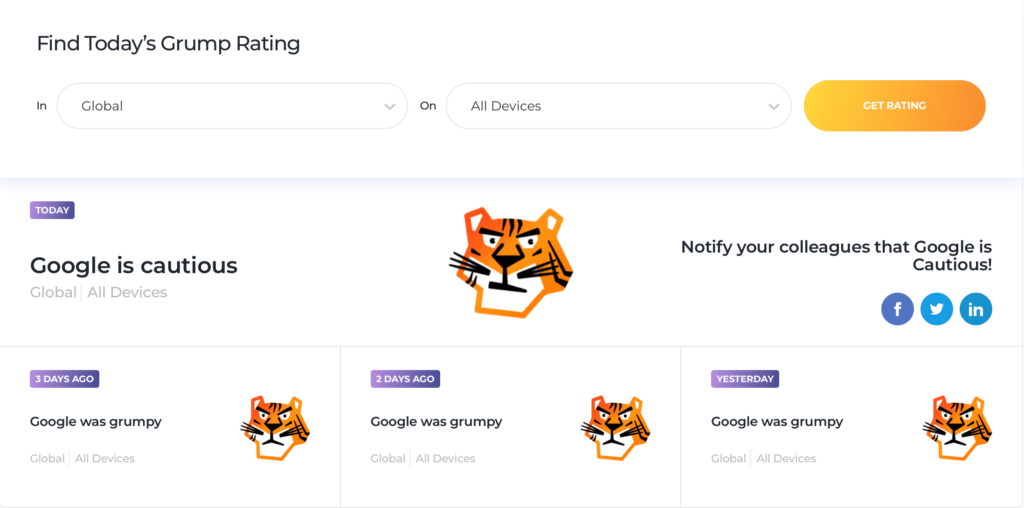 AccuRanker is tracking A LOT of keywords for all their clients worldwide. All this data is pretty valuable when comparing to changes in ranking on your own website and Google algorithms update.
The Google Grump tool is basically showing how many fluctuations there have been today. The data is from 30.000 random keywords, where 50 % is mobile and 50 % is desktop keywords.
If you have seen a huge drop or big jump in rankings from yesterday to today, you can always compare that to the Google Grump, and thereby see if it is due to a bigger update in Google (high fluctuations).
SERP Checker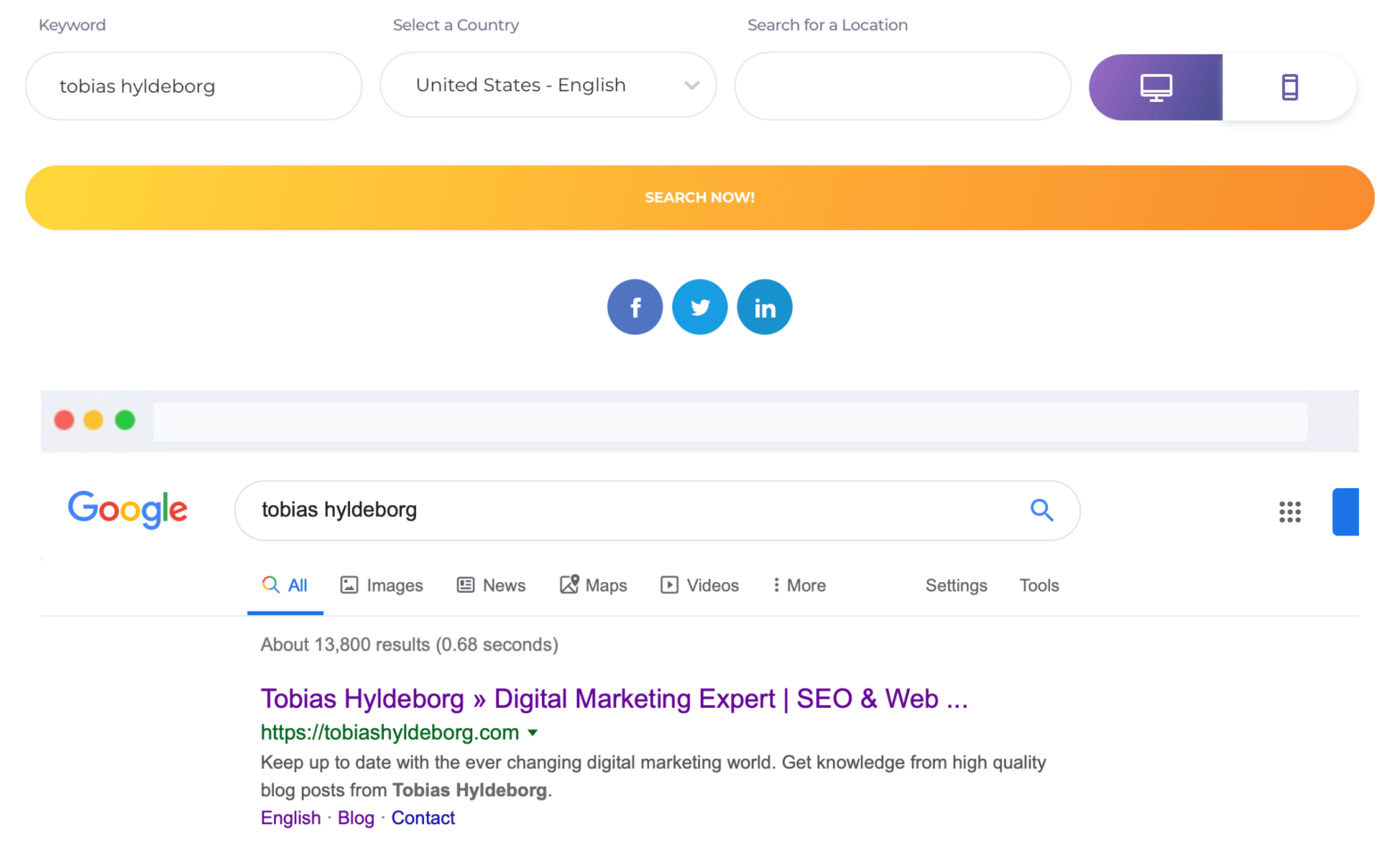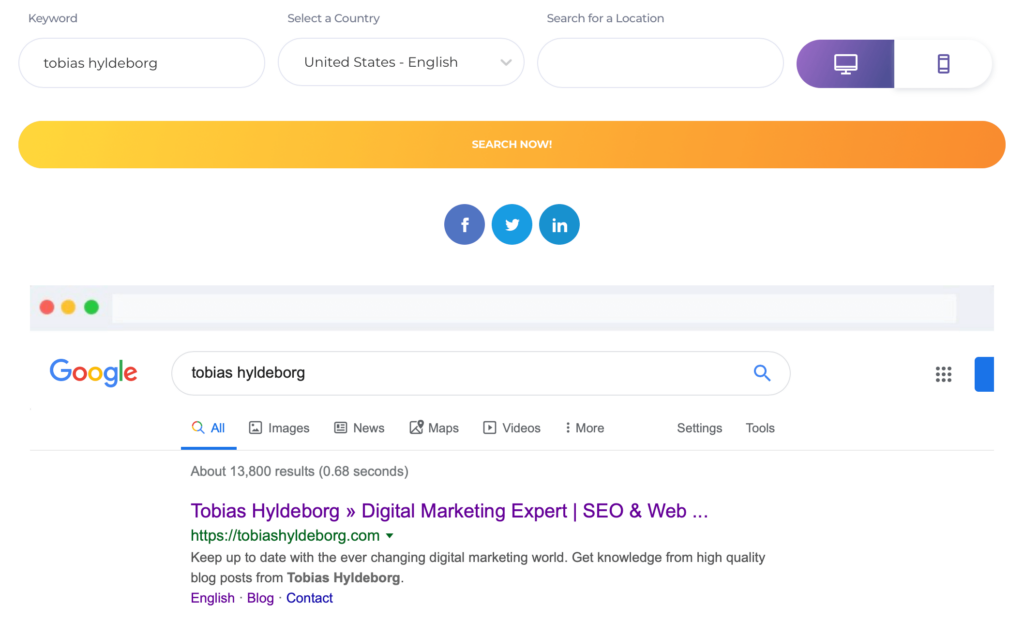 If you want to check how the SERP (Search Engine Results Page) looks like, from an anonymous point of view, the SERP Checker tool from AccuRanker is really good.
You can type in any keyword, any country plus a specific location. The last one is really good to utilize if you are a local business, or a countrywide company, with local shops.
Customer Service, Help & Support
You can expect great help and support from AccuRanker's customer service. You always have access to chat, and the response time is normally pretty quick.
If they are not online when you write, you can expect an e-mail reply in a few hours at max. It also depends if your question is simple or more complex.
If you prefer phone or mail, you can visit their support page, where you can find contact information. You can also take a look at their help center, where your question is maybe already answered.
Pricing
| | | | |
| --- | --- | --- | --- |
| # of Keywords | Monthly Billing | Yearly Billing | Price per Keyword |
| 1.000 | 79 USD | 71 USD | 7,11 c |
| 1.500 | 99 USD | 89 USD | 5,94 c |
| 2.000 | 129 USD | 116 USD | 5,80 c |
| 3.000 | 179 USD | 161 USD | 5,37 c |
| 4.000 | 219 USD | 197 USD | 4,93 c |
| 5.000 | 249 USD | 224 USD | 4,48 c |
| 10.000 | 399 USD | 359 USD | 3,59 c |
| 15.000 | 549 USD | 494 USD | 3,29 c |
| 20.000 | 699 USD | 629 USD | 3,15 c |
| 25.000 | 849 USD | 764 USD | 3,06 c |
| 30.000 | 999 USD | 899 USD | 3,00 c |
| 35.000 | 1.149 USD | 1.034 USD | 2,95 c |
| 40.000 | 1.299 USD | 1.169 USD | 2,92 c |
| 50.000 | 1.499 USD | 1.349 USD | 2,70 c |
| 60.000 | 1.699 USD | 1.529 USD | 2,55 c |
| 70.000 | 1.899 USD | 1.709 USD | 2,44 c |
| 80.000 | 2.199 USD | 1.979 USD | 2,47 c |
| 90.000 | 2.399 USD | 2.159 USD | 2,40 c |
| 100.000 | 2.499 USD | 2.249 USD | 2,25 c |
Last updated in November 2019.
Considering how many advances features, filtering options and integrations the tool has, I would say that the pricing on AccuRanker is really cheap.
Plans
The tools currently have plans where you can track everything between 500 – 100.000 keywords, and the pricing goes between 44 USD – 2.499 USD a month.
Pricing can go up and down, so I would recommend that you check out their own pricing and plans page, to see the current pricing for getting started.
Questions?
Do you have any questions, that have not been answered on this post? Feel free to post a comment, and I will do my best to reply in a short time.